1
How to use our extension
Video Speed Control

Welcome to Video Speed Control
---
Thank you for installing and using our extension
---
Features:
Install and open.
After installing the extension. You click on the icon and can begin to speed up/slow down HTML5 videos on the current webpage.
If you want to adjust the playback speed of videos for desktop video players, check out the software below.
If you want to speed up or slow down the playback of a video on your computer, you can use one of many free desktop video players. Here are some of the most popular ones:
VLC Media Player (www.videolan.org) is a free and open-source media player that supports nearly all video formats. It can also adjust playback speed and supports subtitles, so it's great for watching movies in foreign languages.
Windows Media Player (www.microsoft.com) comes preinstalled with Windows operating systems and allows users to adjust playback speed by changing the frame rate (the number of frames per second).
Apple QuickTime Player (www.apple.com/quicktime) lets users play or edit videos but not change their frame rate.
Tutorial:
Install the Extension
After installing the extension, click on the icon on the toolbar.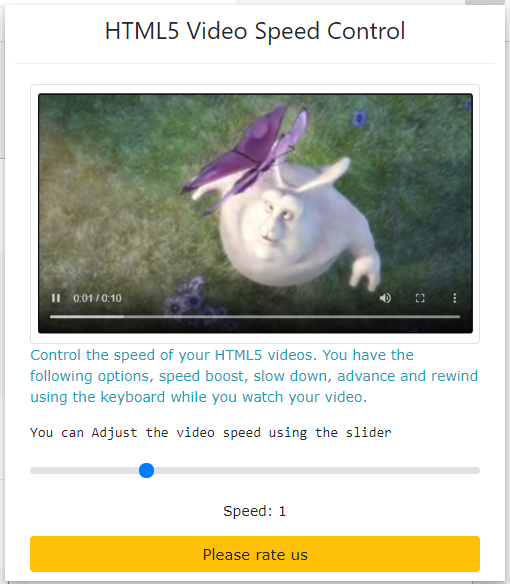 ---
Speed up or slow down any HTML5 videos on any website.